Magica De Spell
---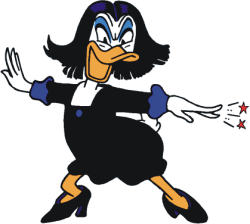 Eyes:
Black
Hair:
Black
Race:
Duck
Occupation:
Witch
Marital Status:
Single
Known relatives:
Granny De Spell (grandmother)
Poe De Spell (brother, only in DuckTales)
Minima De Spell (niece)
Witch Child (niece, only in Italian stories)
Base of operations:
Mt. Vesuvius, Magica's vulcano hideout (Naples, Italy)
Story:
Magica De Spell is the witch who wants to steal Scrooge McDuck's first dime for making a powerful magical amulet. Helping and supporting her, she has her raven Ratface/Poe, her apprentice Samson Hex and her two friends Madam Mim and Witch Hazel.
Skills & abilities:
Magica De Spell is a highly skilled witch.
Continuity:
Disney
Publisher(s):
Disney
Dell Comics
Gold Key
Whitman Publishing
Gladstone
Gemstone
First app.:
Comics: Uncle Scrooge #36 (1961)
Cartoon: DuckTales episode 2: Send In The Clones (Sept. 21, 1987)
Games: Disney's Duck Tales: The Quest for Gold (1990)
Creator(s):
Carl Barks
Country of origin:
USA

Background notes:
Magica De Spell was created by Carl Barks as a new recurring antagonist for Scrooge McDuck. The idea was that by gathering coins owned by the world's richest men and melting them in the fires of Mt. Vesuvius, Magica could create an amulet which would give her the Midas Touch i.e. the ability to transform other metals into gold. Using the Number One Dime would apparently be the best for the amulet. Later this was modified into a relentless quest for the Dime specifically and just to make an amulet.
Visually the character Magica was inspired by actresses Gina Lollobrigida and Sophia Loren and in terms of personality Morticia Addams of
The Addams Family
was an inspiration. Where the normal witches from Disney were either good or evil and mostly old and unattractive, Magica was to be a youthful and attractive enchantress; seductive, amoral, and somewhat threatening, thus blurring the normal black and white view on characters in comics. Barks didn't use Magica for more than nine stores from 1961 to 1964, as he apparently thought the character required a strong plot in the stories, and even though Magica was a witch, she never used magical powers in his stories. Other writers seeing the strength of the character were quick to user her. Less than a year after her introduction she was used by others, and started showing the use of magical powers, and has been used extensively ever since, especially in Italian, Brazilian and Danish stories.
Besides her relentless quest for the Number One Dime, Magica has also appreared with her friends Madam Mim and Witch Hazel, doing various stories in the vein of fun-with-magic, and in Europe she has been given a family and in Brazil she got an apprentice named Samson Hex.
Even though Magica was quite popular in the comics, she wasn't transferred to cartoons until
DuckTales
started in 1987. Here however, she was one of the first characters to be used (episode 2 to be exact) and she was a semi-regular on the show (voice by June Foray). After
DuckTales
stopped in 1990, Magica has not appeared in any cartoons yet.
Outside the comics and cartoons, Magica has apparently only appeared a few places. She has appeared in a few Disney games, the first being
Duck Tales: The Quest for Gold
from 1990 (released for Amiga, Apple II, Atari ST, Commodore 64, and PC/DOS), and a little merchandise like pins and figurines has been made.
Related links/characters: