Mom
---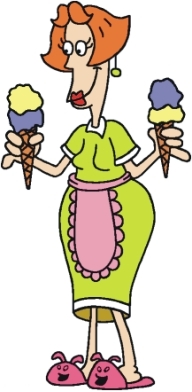 Eyes:
Black
Hair:
Orange/red
Race:
Human
Occupation:
Housewife
Known relatives:
J.B. (son)
Wendy Elizabeth (daughter)



Story:
Mom is the caring parent taking care of her children J.B. and Wendy Elizabeth and the cat Eek. She spends a lot of her time cleaning the house and is a student of foreign languages, especially "Spangalese".
Continuity:
Fox Kids
Publisher(s):
Fox Kids
Saban Entertainment
Disney
Hamilton Comics
First app.:
Cartoons: Catsanova (1992)
Creator(s):
Savage Steve Holland
Bill Kopp
Country of origin:
USA

Background notes:
Mom appears to be a single mom. She does not appear to have a job either, other than cleaning the house and taking care of the children and Eek. This is probably the reason she never got an actual name but only went by Mom. In the cartoons, her voice was done by Elinor Donahue.
Related links/characters: