Claudius Rapedalédilapoulos IV
---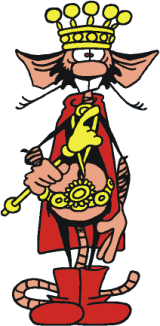 Eyes:
Black
Hair:
Black fur
Race:
Rat
Occupation:
King of Les Toyottes
Marital Status:
Single
Known relatives:
Barnabé (son)
Story:
Rapedalédilapoulos IV is the king of the rats living in the sewers after a nuclear war destroyed the World above.
Continuity:
Les Toyottes
Publisher(s):
Casterman
Lombard
First app.:
Comics: Les Toyottes: La Dalle Maudite (1980)
Games: The Toyottes (1990)
Creator(s):
Louis-Michel Carpentier
Country of origin:
Belgium

Background notes:
The threat of a nuclear war and how the World would be after a nuclear war was a very popular theme during the Cold War, and for the most part, the stories took a rather dim view of the post-war Earth.
Les Toyottes
was one of the few lighthearted stories, and was esentially an action comedy about a king and his men. After the war, only the rats and a few select mutated animals had survived. King Rapedalédilapoulos IV was the king of one of the groups of rats that had survived, and he tried to rule his kingdom helped by his inept advisor and resourceful soldiers.
The series was created by Louis-Michel Carpentier who did the first two albums alone. At the third album,
La Dame Blanche
, Cauvin joined as the writer. The first five albums came in rapid succession from 1980 to 1982 from Casterman. Then the series stopped until 1989, when Le Lombard published a sixth album in the series and a story named
La Quête Infernale
in
BD Jeu
#1. No new material has been published since then.
Les Toyottes was transferred to games in 1990. The game
The Toyottes
for the Amiga 500/600 and Atari ST platforms was released by Infogrames.
Related links/characters: