Alfredo
---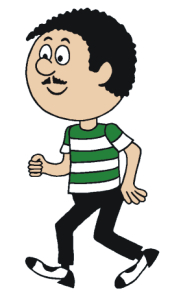 Eyes:
Black
Hair:
Black
Race:
Human
Occupation:
Womanizer
Marital Status:
Married
Known relatives:
Mrs. Alfredo (wife)
Unnamed son



Story:
Alfredo is the ultimate womanizer, constantly chasing women while trying to avoid getting caught by his wife.
Continuity:
Alfredo
Publisher(s):
P.I.B.
First app.:
Le Figaro (Late 1940s)
Creator(s):
Jørgen Mogensen
Cosper Cornelius
Country of origin:
Denmark

Background notes:
Like a lot of other Danish comics, Alfredo was a pantomime series. Pantomime was both a way of avoiding the extra cost of translations and a way of storytelling favored in Denmark (e.g.
The Pantomime Theater
in Tivoli which is from 1874 and
Fy & Bi
from the silent movies). Like
Den Tossede Tegner
, Alfredo was not bound by the laws of nature. A lot of the gags in the series, is Alfredo chasing women, but the series served first and foremost as a vehicle for bizarre ideas set in any time or place in history, often breaking the fourth wall.
When Jørgen Mogensen and Cosper Cornelius met and started their cooperation on Alfredo they had both had success with other series, and the series almost didn't make it. Despite the series being Danish, is actually started in France in
Le Figaro
under the name
Presto
, where it only lasted a short while. Like USA at the time, the cultural elite in Europe found comics to be low-brow entertainment which had no place in a newspaper, and the series was canceled. The Danish publisher PIB took over the series, named it Alfredo and shortly after it was a successful comic strip. The cooperation lasted until the late 1986 when Mårdøn Smet took over the series. The series only lasted a few years after this.
While Alfredo was a major hit in its heyday, running in 100+ papers every day (40 of which was in USA under the name MOCO), the series never made it to other media.
Examples:



Related links/characters:
Cross cultural references:
If you enjoyed this character/series, you might enjoy