Den Tossede Tegner
---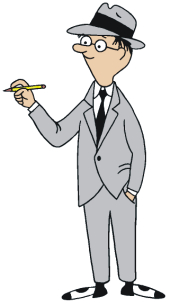 Real name:
Unknown
Eyes:
Black
Hair:
Black
Race:
Human
Occupation:
Varies, usually cartoonist or painter
Marital Status:
Single
Story:
The cartoonist is a typical man from the 1940s and 50s only with a magical pen with which he can draw solutions to his problems.
Equipment:
A pen which will turn any drawing into a real object.
Continuity:
Den Tossede Tegner
Publisher(s):
P.I.B.
First app.:
(1948)
Creator(s):
Jørgen Mogensen
Country of origin:
Denmark

Background notes:
Jørgen Mogensen is mostly known for his comic strip
Poeten og Lillemor
which ran for 53 years until his death in 2003. Of his lesser known strips were
Den Tossede Tegner
(The Crazy Cartoonist) from 1948. Like a lot of the comic strips at the time it was a pantomime strip. With the addition of a pen which could make anything the cartoonist drew into actual objects, the off-beat humor which Mogensen also used in
Alfredo
, was given an extra surreal dimension.
Most of the strips are everyday problems like the ones Ferd'nand has been struggling with since 1937, only without the limitations, e.g. getting light for his cigarette by drawing a lit match, burning down the house instead. Some, however were a little more far fetched like needing a new bed sheet and drawing a ghost from which he took the sheet, or being attacked by a lion, which was averted by drawing a man which the lion would chase instead.
The series ran until 1955 and was not transferred to other media. The craziness of the series continued though, in the series
Alfredo
which he started around the same time with the cartoonist Cosper Cornelius.
Examples:



Related links/characters:
Cross cultural references:
If you enjoyed this character/series, you might enjoy