Barbapapa
---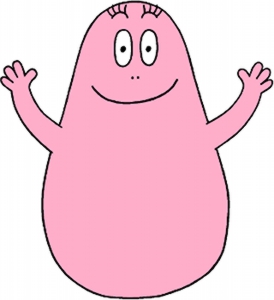 Eyes:
Black
Hair:
None
Race:
Barbapapa
Legal status:
French citizen
Marital Status:
Married
Identity:
Publicly known
Known relatives:
Barbamama (wife)
Barbidou (son)
Barbalala (daughter)
Barbotine (daughter)
Barbouille (son)
Barbabelle (daughter)
Barbibul (son)
Barbidur (son)
Story:
Barbapapa was a being that grew in the garden of François and Claudine. He appeared in the soil where he grew in a shell until he burst into the human world. He tried to fit in, holding several jobs, but eventually got lonely and started searching for someone like him. After searching around the World, he found the female Barbamama back home. He married her and together they started a family, which they grew in their garden.
Skills & abilities:
Shape shifting
Continuity:
Barbapapa
Publisher(s):
Les Livres du Dragon d'or
First app.:
Books: Barbapapa (1970)
Cartoons: La naissance (1974)
Comics: Barbapapa and the Iceberg
Creator(s):
Annette Tison
Talus Taylor
Country of origin:
France

Background notes:
Barbapapa was originally a children's book by Annette Tison and Talus Taylor. The character first appeared in the book
Barbapapa
from 1970, where he grew in François' garden and started a family. The name Barbapapa became both the name of the character and the name of the race, and it is a pun on "barbe a papa" which is French for candy floss (direct translation: father's beard). The books became an international success and new books are still produced.
The success of the books prompted a series of cartoons that aired in 1974. The series
Barbapapa
ran 45 episode in 1974. It was produced in 1973, which gives a bit of on confusion regarding first appearance. Though the series
Barbapapa
is French, the cartoons were a Dutch/Japanese production with the original voices in Japanese by Kaneta Kimotsuki and Noriko Obara. A second series aired in 1977 (48 episodes), and a third aired in 1999 (20 episodes). As a part of the cartoons, several LP's were released containing the songs from the episodes.
The details are sketchy, but according to the official Barbapapa site, Barbapapa was also made into comics. The series is an open end series with no numbering and only identified by the title, like the books. So far, 79 comics are listed.
The popularity of the series has resulted in a lot of merchandise, ranging from the obvious figurines and teddy bears to slippers, jewelry, coffee mugs and live size reproductions of the Barbapapa house.
Names around the World:
| | |
| --- | --- |
| Bulgaria | Татко Барба |
| China (mainland) | 巴巴爸爸 |
| China (Hong Kong) | 變形豆爸爸 |
| Denmark | Barbapapa |
| Finland | Barbapapa |
| France | Barbapapa |
| Germany | Barbapapa |
| Holland | Barbapapa |
| Hungary | Barbapapa |
| Italy | Barbapapà |
| Japan | バーバパパ |
| Norway | Barbapappa |
| Portugal | Barbapapa |
| South Africa | Barbapapa |
| Spain | Barbapapá |
| Sweden | Barbapapa |
| UK/USA | Barbapapa |
Related links/characters: