Jonathan Deskinn
---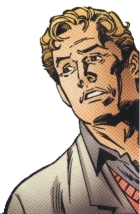 Date of death:
Jan. 9, 1995
Place of death:
Xolus Nobyl's spaceship orbiting Earth.
Eyes:
Blue
Hair:
Blond
Race:
Human
Occupation:
Doctor at Hemetech
Legal status:
U.S. citizen
Marital Status:
Married
Known relatives:
Margeret Deskinn (wife)
Julia Deskinn (daughter)



Story:
Jonathan Deskinn was a doctor at Hemetech and a part of the organization, which kidnapped and tortured Xolus Nobyl in order to get hold on his spaceship. Deskinn really didn't like what he was doing but apparently saw it as a necessary evil. Deskinn was accidentally killed by Ajax in a fight between Ajax and Xolus Cor [1].
Continuity:
Broadway Comics
Publisher(s):
Broadway Comics
First app.:
Powers That Be (vol. 1) #6 (1996)
Creator(s):
Jim Shooter
Tony Bedard
Janet Jackson
Joseph A. James
Pauline Weiss
Andrew Wendel
Country of origin:
USA

Related links/characters:
References:
Star Seed (vol. 1) #9
Broadway Comics