GingerDead
---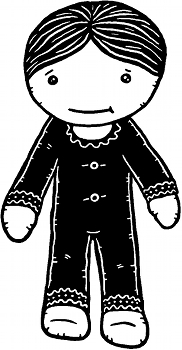 Eyes:
Black
Hair:
Black
Race:
Gingerbread man
Occupation:
School kid
Marital Status:
Single
Identity:
Publicly known
Known relatives:
Vendetta (sister)
Story:
GingerDead is a young gingerbread man who is lacto-phobic and easily confused. He is usually bullied by his sister Vendetta, who also, on a regular basis, tries to kill him.
Continuity:
GingerDead and Friends
First app.:
GingerDead and Friends webisode #1 (2006)
Creator(s):
Calan Ree
Country of origin:
USA

Background notes:
GingerDead and Friends
is a webcomic created in 2006 by Calan Ree. The series is a mixture of dark humor and haiku poems in strips and single panes. The series has not been transferred to other media
per se,
but the style in the comic strips has been transferred to various item like jewelry and figurines by Calan Ree.
Examples: (click to enlarge)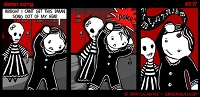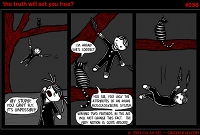 Related links/characters: