Charlotte Braun
---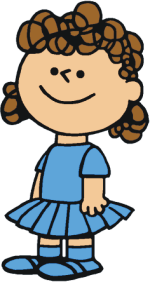 Eyes:
Black
Hair:
Brown
Race:
Human
Occupation:
School kid
Legal status:
U.S. citizen
Marital Status:
Single
Story:
Charlotte Braun was a loudmouth girl who hung out with Charlie Brown and his friends for a while.
Continuity:
Peanuts
Publisher(s):
United Features Syndicate
First app.:
November 30, 1954
Creator(s):
Charles M. Schulz
Country of origin:
USA

Background notes:
Charlotte Braun was a character Charles Schulz used for a short time. She was supposed to be the female counterpart to Charlie Brown, but as a character she didn't work out for Schulz and she was removed after only 10 appearances (last appearance was February 1, 1955). The idea of a female counterpart for Charlie Brown wasn't abandoned. This was turned into Charlie Brown's little sister Sally in 1960.
After being removed from the series, the character wasn't seen until the series The Complete Peanuts vol. 2 was published by Fantagraphics in 2004, except for a single strip in Peanuts: The Art of Charles Schulz from 2001.
Names around the World:
| | |
| --- | --- |
| Sweden | Karla |
| UK/USA | Charlotte Braun |
Related links/characters: