Colonel Potterby
---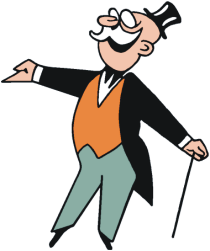 Eyes:
Black
Hair:
White
Race:
Human
Legal status:
US citizen
Marital Status:
Single
Story:
Colonel Potterby is an amiable gentleman and often a bit of a prankster. Along with his fellow prankster and love interest, the woman known as Duchess, he enjoys life and a good joke.
Continuity:
Colonel Potterby and the Duchess
Publisher(s):
King Features Syndicate
First app.:
1934
Creator(s):
Chic Young
Country of origin:
USA

Background notes:
The character Colonel Potterby is a whimsical elderly gentleman dressed in coat-and-tails and a top hat. He and the Duchess appeared in the series
Colonel Potterby and the Duchess
which ran from 1934 thru 1963. The series was mostly a pantomime strip, but from time to time, a few lines were said. Unlike Young's other series
Blondie
, this series was not bound by the confinements of family and reality. The humor is simple: take a funny idea and give it form and expression, and it works really well. Today the series is mostly forgotten and at best a small footnote in the works of Chic Young.
Names around the World:
Denmark
Obersten
Oberst Potterby
UK/USA
Colonel Potterby
Example (click to enlarge):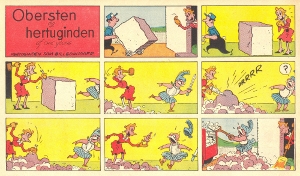 Related links/characters:
Cross cultural references:
If you enjoyed this character/series, you might enjoy
Katzenjammer Kids: Same type of humor.