Le Chef
---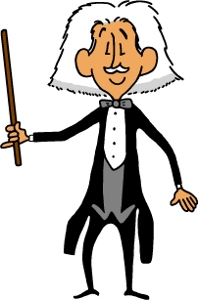 Real name:
Unknown
Eyes:
Black
Hair:
White
Race:
Human
Occupation:
Conductor
Story:
Le Chef is the conductor for whom strange things happens on the podium.
Continuity:
Le Chef
Company:
Dupuis
First app.:
Journal de Spirou #2691 (1987)
Creator(s):
Didgé (Didier Chardez)
Country of origin:
Belgium

Background notes:
Le Chef (The Chief/The Boss) is one of the many series from
Journal de Spirou
, that only appeared for a short period. The series was a pantomime series and while many of the jokes had been seen before, it did offer a few new takes on the classic jokes, like musical notes falling to the ground. The series started in
Journal de Spirou
#2691 and ended in #2766 (1991).
Examples: (click to enlarge)