Little Toot
---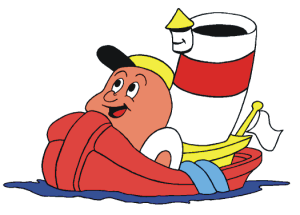 Eyes:
Black
Race:
Tugboat
Marital Status:
Single
Known relatives:
Big Toot (father)
Story:
Little Toot is a small tugboat who lives with his father Big Toot.
Continuity:
Disney
Publisher(s):
Putnam Publishing Group
Disney
Gold Key
First app.:
Original version: Little Toot (1939)
Disney version: Melody Time (1948)
Creator(s):
Hardie Gramatky
Country of origin:
USA

Background notes:
Little Toot was originally a children's book created by Hardie Gramatsky in 1939 while he was an animator at Disney. Disney licensed the character for the cartoon
Melody Time
from 1949 where one of the stories was about Little Toot. Little Toot starred in his own cartoon
Little Toot
again in 1954, and a few stories was made for
Walt Disney's Comics and Stories
. The character Little Toot has not been used by Disney for many years. It has been speculated that Disney lost the licencing rights, but these speculations has not been confirmed.
Names around the World:
Brazil
Rebocadorzinho Agapito
Denmark
Lille Tut
Greece
Τάμπυ
Ο μικρός Τουτ
Τάμπυ
Τουτ (- Τουτ το μικρό ρυμουλκό)
Finland
Pikku Purtilo
France
Tût-Tût
Mexico
El pequeño remolcador
Netherlands
Kleine Toet
Norway
Tut-Tut
Portugal
Rebocadorzinho Agapito
Serbia
Мали Реморкер
Sweden
Lilla Tråget
UK/USA
Little Toot
Related links/characters: