Konduktøren
---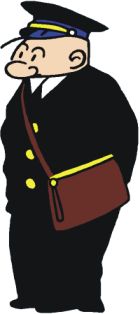 Real name:
Unknown
Eyes:
Black
Hair:
Black
Race:
Human
Occupation:
Conductor on cable car line 0
Legal status:
Danish citizen
Marital Status:
Married
Known relatives:
Wife and son, not named
Base of operations:
Copenhagen, Denmark
Story:
The conductor is the family man working on the cable car
Nullerten
in Copenhagen.
Continuity:
Nullerten
First app.:
Comics: Socialdemokraten, February 20, 1949
Theater: December 19, 1953

Creator(s):
Helge Hall
Country of origin:
Denmark

Background notes:
Konduktøren (the conductor) was the recurring character in Helge Hall's series
Nullerten
(meaning
The Zeroth
). The series
Nullerten
was really a comic strip about the cable car line 0, and the people working and using the cable car, but the conductor was the one that was seen both on and off the job. The series ran in the newspaper
Socialdemokraten
(meaning The Social Democrat) from 1949 until 1963 when the paper, now named
Aktuelt
, became more provincial and didn't have space for something so specific for Copenhagen as a cable car number 0. It is possible that this is not the actual or at least the only reason, as there was also cable cars running in Århus at the time.
The comic strip was one of the few to ever be transferred to the theater, and even more special is it that it was charity for the homeless and the show was performed in a cable car going from Svanemøllen over Rådhuspladsen to Enghave Plads. The fare was 1.00 kr. that went to
Hjemløses Jul
(Christmas for the homeless), the cable car driven by volunteers and the conductors were popular performers at the time, also working for free. The idea was the actor Ib Schønberg's and the cable car drove once a year until 1956.
Today the series is mostly as faint or nostalgic memory like the cable cars in Copenhagen and the newspaper
Socialdemokraten/Aktuelt
.
Examples: