Carlt
---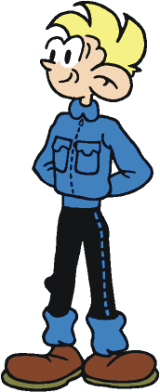 Eyes:
Black
Hair:
Blonde
Race:
Human
Occupation:
Delivery boy at Maehløs & Co.
Legal status:
Danish citizen
Marital Status:
Single
Base of operations:
Copenhagen, Denmark
Story:
Carlt is the young delivery boy working for the company Maehløs & Co.
Continuity:
Carlt
Publisher(s):
Berlingske Hus
Politikens Hus A/S
Carl Allers Etabl. A/S
Cartoons Forlag
First app.:
B.T. (September 1, 1940)
Creator(s):
Holger Philipsen
Country of origin:
Denmark

Background notes:
The series
Carlt
is one of the interesting Danish comics from a historical point of view. The series started September 1, 1940 in the newspaper
B.T.
It was in many ways a typical funny series about Carlt and the people around him, and the setting was contemporary Copenhagen. However Holger Philipsen's use of exaggerated body language, word balloons (in the 1940s and 50s having the text below the pictures was the most common) and onomapoeia being part of the graphics, lifted the series well above the average. This was helped by his use of the absurd in his storytelling.
When the series started out it was called
Carlt --- nemli'!
, this was later truncated to
Carlt
. During the German occupation of Denmark, Holger Philipsen used the comic strip for expressing anti-German sentiments, and he had to go underground (i.e. Sweden) where he continued making illustrations for the illegal magazines published by the resistance.
After WWII, Philipsen and
Carlt
returned to
B.T.
, where they stayed until Philipsen moved to the competitor
Ekstrabladet
in 1961 along with his series. At the present time, information on when the series stopped has not been obtainable, but the series is not produced today, and based on the available information, the series was not continued after Holger Philipsen's death in 1993.
Examples:


Related links/characters: