Jung
---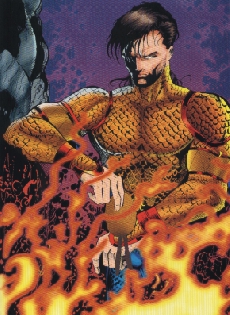 Date of birth:
Around 1560
Place of birth:
Chul Ju, Korea
Eyes:
Brown
Hair:
Black
Race:
Human
Story:
When Jung was a child in the city Chul Ju, Korea in 1565, his family was killed along with the rest of the village by Japanese forces on their way into China. Jung was rescued by a an immortal warrior who took him to the legendary Bul Kuk Sa temple where he grew up learning the martial arts Hwa Rang Do and became a Hwa Rang Knight [2].
When Jung reached the point where the Hwa rang Knights couldn't teach him anymore, he went on a pilgrimage searching for knowledge, which would make him a god. On his journey he rescued the son of emperor who in return made Jung a Horseman. The seal he would carry as a horseman would give him 20 warriors for protection if he should need it. This happened in 1587 [2].
Jung went to Japan at some point. In 1592 he was on a mission to assasinate the Shogun. The mission failed and Yung-Un, the woman he loved was killed [3].
In 1996 the seal was stolen by a man called Tommy-Q who wanted the secret of immortality [1]. Fighting his way thru Tommy-Q's warriors Jung got his seal back [4].
Skills & abilities:
Jung is a master of the martial arts called Hwa Rang Do. He also masters some mental disciplines giving him enhanced healing, levitation and control over his body's aging process. This is supposedly also a part of the Hwa Rang Do training.
Continuity:
Horseman
Publisher(s):
Crusade Comics
Kevlar Studios
First app.:
Horseman (Crusade Edition) #1 (1996)
Creator(s):
Hank Kwon
Peter Gutierrez
Mshindo Kuumba I.
Country of origin:
USA

Background notes:
Horseman is interesting for two reasons. 1: it is a martial arts comic from the nineties and 2: it was endorsed by The World Hwa Rang Do Association. Endorsed comics are rare in general, and martial arts comics were only popular for a very short while in the early seventies. It is interesting to note that the series was first published by Crusade Entertainment, a company, which was famous for the series
Shi, The Way of the Warrior
another martial arts series, at the time.
References:
Horseman (1996 series) #1
Crusade Entertainment, March 1996
Horseman (1996 series) #0
Kevlar Studios, May 1996
Horseman (1996 series) #1
Kevlar Studios, November 1996
Horseman (1996 series) #3
Kevlar Studios, November 1997