Charlie Dog
---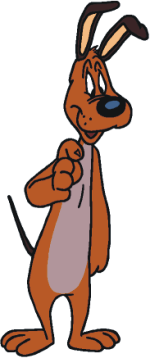 Eyes:
Black
Hair:
Light brown fur
Race:
Airedale terrier, possibly a mutt
Known relatives:
Mrs. Dog (mother, only in comics)
Story:
Charlie Dog is a homeless dog looking for a new owner.
Continuity:
Looney Tunes
Publisher(s):
Warner Bros.
Looney Toones
Dell Comics
DC Comics
First app.:
Cartoons: Porky's Pooch (December, 27 1941)
Comics: Looney Tunes and Merrie Melodies #122 (1951)
Creator(s):
Warren Foster
Izzy Ellis
Country of origin:
USA

Background notes:
Charlie Dog started out as a homeless dog named Rover who wanted a new master. The new master he had decided should be Porky Pig. This was his first appearance in the cartoon
Porky's Pooch
from 1941. His second appearance was a remake of the first cartoon, only in color and the dog had changed name to Charlie Dog. The cartoon was
Little Orphan Airedale
from 1947. Charlie Dog appeared in seven cartoons,
Dog Tales
from 1958 being the last. He then had a few appearances on
The Bugs Bunny Show
and
The Bugs Bunny & Tweety Show
doing reruns of the old cartoons, but was otherwise shelved until
The Sylvester & Tweety Mysteries
started in 1995. Here he appeared from 1997 to 1999 in a yet unknown number of episodes. In the original cartoons Charlie's voice was done by Mel Blanc and in
The Sylvester & Tweety Mysteries
the voice was done by Joe Alaskey.
In comics he appeared a few times in the series
Looney Tunes and Merrie Melodies
(#122 from 1951 is the earliest record so far), and he has also had a few appearances in the current
Looney Tunes
from DC Comics, so he is still around after more than 60 years, even though he not a very prominent character.
Related links/characters: