Cicero Pig
---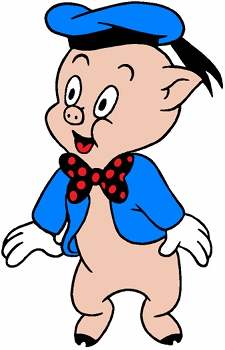 Eyes:
Black
Hair:
None
Race:
Pig
Legal status:
U.S. citizen
Marital Status:
Single
Known relatives:
Porky Pig (uncle)
Story:
Cicero is Porky Pig's nephew and friend.
Continuity:
Looney Tunes
Publisher(s):
Warner Bros.
Looney Toones
Dell Comics
Gold Key
Whitman Publishing
First app.:
Comics: Looney Tunes and Merrie Melodies Comics #16 (1943)
Country of origin:
USA

Background notes:
When Porky Pig and the rest of the Looney Tunes characters were transferred to comics, some of the characters were changed or given a family of new characters. Cicero Pig was one of these characters. In the cartoons, Porky had a nephew named Pinky. Pinky was a toddler, and apparently never appeared outside the cartoons, whereas Cicero was a kid similar to Donald Duck's nephews Huey, Dewey and Louie. A kid who could be a rascal, but also the the only reasonable person, depending on the story.
Cicero first appeared in
Looney Tunes and Merrie Melodies Comics
#16 from 1943, and was widely used in the Porky and Petunia Pig stories up through the forties to the early eighties. The creator(s) of the character and the first story has not been possible to find. The last record found is
Bugs Bunny
#241 from 1982. For some reason, DC Comics, who has published Looney Tunes since 1994, have not used the character yet.
Despite his popularity in comics, the characters was not used much outside comics. Cicero appeared in some of the illustrated children's book e.g.
Big Golden Book
# 10316,
BUGS BUNNY'S BOOK: Featuring the Famous T.V. Characters Porky Pig, Petunia Cicero and Elmer Fudd
from 1951. He was also given voice and a small part on the record/illustrated book
Bugs Bunny In Storyland
from 1949 (voice appears to be by Mel Blanc). Apparently only very little merchandise with Cicero has been made. A couple of puzzle for small kids has been found, one from the 1960's and one from 1973.
The last appearance found so far is
Bugs Bunny and His Sunburned Ears
from 1990, The book is an illustrated children's book, which is found in two versions, a Golden Super Shape Book and a Golden Look-Look Book.
Related links/characters: