Pepé Le Pew
---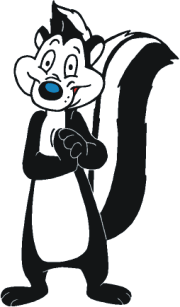 Alias:
Stinky
Henry



Eyes:
Black
Hair:
Black and white fur
Race:
Skunk
Occupation:
Womanizer
Marital Status:
Single
Known relatives:
Pierre Le Pew (descendant, only in Loonatics Unleashed)
Base of operations:
Paris, France
Story:
Pepé Le Pew is a skunk looking for love. Usually he is chasing the cat Penelope, thinking she is a female skunk.
Continuity:
Looney Tunes
Publisher(s):
Warner Bros.
Looney Toones
Dell
Gold Key
DC Comics
First app.:
Cartoons: Forever Ambushed/Odor-able Kitty (January 6, 1945)
Comics: Looney Tunes #240 (1961)
Creator(s):
Tedd Pierce
Robert Cannon
Country of origin:
USA

Background notes:
The skunk Pepé Le Pew first appeared in the cartoon
Forever Ambushed
from 1945 (later renamed to
Odor-able Kitty
) where a male cat paints itself as a skunk and ends up being chased by the lovestricken Pépe. In the cartoon, he was named Henry and was revealed to have a wife and kids. In his second appearance
Scent-imental Over You
from 1946, his name was changed to Stinky. The name Pépe Le Pew did not occur until the sixth cartoon
Little Beau Pepé
from 1951. Having no given name did not hamper his popularity and the cartoon
For Scent-imental Reasons
from won the 1949 Academy Award for Best Short Subject. This was also the cartoon that introduced Pépe's love interest, the cat that would later be called Penelope Pussycat.
In the cartoons, the jokes revolve around the stench of the skunks and Pepé's relentless chasing of the woman of his affection, rather than the slapstick violence from e.g. Bugs Bunny and Wile E. Coyote. Being the ultimate lover (at least according to himself), Pepé is obviously French and speaks with a soft voice with a French accent and used the French definite article "le" instead of the English "the" e.g. le love, le chase, le skunk etc.
Pépe starred in a total of 16 cartoons until 1962 (voice by Mel Blanc), and was thereafter (like the other Looney Tunes characters) only seen in shows with reruns, and in this case not very often, until
The Bugs Bunny & Tweety Show
started in 1986. His next appearance was not until 1979 in the two Bugs Bunny cartoons
Bugs Bunny's Christmas Carol
and
Bugs Bunny's Looney Christmas Tales
, and he only appeared a few times after that (most notably in
Space Jam
from 1996 and
Looney Tunes Back in Action
from 2003).
In comics, Pépe did not appear very often in the beginning. According to the available data, he appeared a few times in the Loony Tunes series from Dell and Gold Key like
Loony Tunes
and
Daffy Duck
. It wasn't until DC Comics started their
Looney Tunes
series in 1994, that he became a regular in comics.
Being a popular character from Looney Tunes, some merchandise has been made, like figurines, teddybears, t-shirts etc.
Related links/characters: