Sam Sheepdog
---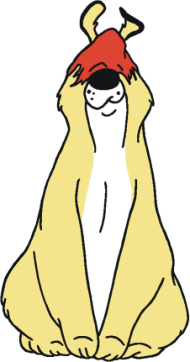 Eyes:
Black
Hair:
Light yellow fur with red bangs
Race:
Sheepdog
Occupation:
Sheepdog
Story:
Sam Sheepdog is the phlegmatic dog guarding the sheep that Ralph Wolf (Wile E. Coyote) is trying to steal.
Continuity:
Looney Tunes
Publisher(s):
Warner Bros.
Looney Toones
DC Comics
First app.:
Cartoons: Don't Give Up the Sheep (January 3, 1953)
Comics: Looney Tunes #15 (1995)
Games: Sheep Raider (2001)

Creator(s):
Chuck Jones
Michael Maltese
Ken Harris
Ben Washam
Lloyd Vaughan
Country of origin:
USA

Background notes:
Sam Sheepdog started out as a new adversary for Wile E. Coyote. Previously the coyote had tried to catch the Road Runner and Bugs Bunny and now he tried to steal the sheep that Sam Sheepdog was watching. In the cartoons Wile E. Coyote was named Ralph Wolf and he was given a red nose instead of his normal black one. Contrary to his normal appearances, Ralph was basically a working stiff, and a big part of the entertainment in the cartoons was him and Sam being co-workers. In the morning, they would both punch in, and apart from the lunch break, Ralph would spend the day trying to steal the sheep and Sam would stop him and beat him up for trying. During lunch hour, they would sit down, take a break and talk like any other colleagues on the job, and when the lunch hour ended the chase would continue. In the evening when the working day ended, the two would punch out being friendly once again and a new wolf and sheepdog would punch in and take over the chase. As always the coyote would use contraptions from ACME and as always they would backfire in some way, but contrary to the Road Runner and Bugs Bunny cartoons, Ralph would get caught by Sam from time to time and get beat up.
The sheepdog first appeared in
Don't Give Up the Sheep
from 1953 and the two appeared in a total of seven cartoons until 1963 (voice by Mel Blanc). After this Sam was not seen in new cartoons until he had a cameo in
Who Framed Roger Rabbit
from 1988, and since then he has only been seen in
Mutton for Nothing
(
Taz-Mania
episode 41 from 1991, voice by Jim Cummings) and
Looney Tunes: Back in Action
from 2003. In between the cartoons were rerun in cartoon shows like
The Bugs Bunny Road Runner Hour
(1968-1969) and
The Bugs Bunny & Tweety Show
(1986-2000).
When DC Comics started their
Looney Tunes
series in 1994, Sam was one of the characters to be included, though it hasn't been much over the years. His first appearance was in #15 from 1995. According to the info currently available, this was the first appearance in comics by Sam Sheepdog, but it is possible that he had a small appearance in series like
Four Color
or some of the Looney Tunes series from the 1960s and 70s.
Along with Wile E. Coyote, Sam has also been transferred to a game. The game
Sheep Raider
from Infogrames was released for Playstation and PC in 2001.
With the popularity of Wile E. Coyote, merchandize with Sam Sheepdog has been inevitable, though it isn't much. A set of interaction glass, a coloring book and a few other items has been seen.
Related links/characters: