Hultrasson
---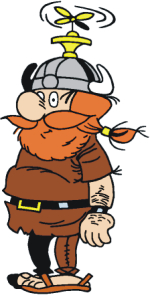 Eyes:
Black
Hair:
Reddish brown
Race:
Human
Occupation:
Viking
Marital Status:
Single
Base of operations:
Kokmar, a small village in the bottom of a fjord, somewhere in the North.
Story:
Hultrasson is a Viking who is often assigned missions by his King Harald-les-beaux-cheveux.
Continuity:
Hultrasson le Viking
Publisher(s):
Dupuis
First app.:
Journal de Spirou #1352 through 1354 (1964)
Creator(s):
Marcel Remacle
Marcel Denis
Country of origin:
Belgium

Background notes:
The series about Hultrasson is usually perceived as a Viking version of Asterix, and on the surface level it is not a bad comparison. The missions and the fighting and dynamics of the storytelling have a lot in common with Asterix at the time. However, Asterix contains a lot of references to contemporary ideas and things happening in the real World, whereas Hultrasson is "only" the story as presented, making it less appealing to adults than Asterix.
Like a lot of series, Hultrasson started out in
Spirou
and was collected in albums later. The first four stories were done by Marcel Remacle and Marcel Denis from 1964 (
Fais moi peur Viking!
) through 1967 (
Les vikings aux champs
). Of these, the last one from was only a 6 page short story. After this, the series took a break, until 1973, when Vittorio Leonardo and Maurice Tillieux made
L'eau de politesse
, the fourth album in the series. The story was very different from the originals, and it was the last album to be made. The last story to be published was a 5 page story called
Hultrasson et la montagne aux oiseaux
from
Spirou
#1973 from 1976 (by Vittorio Leonardo).
Hultrasson was not Remacle's most popular or successful series, that would be
Vieux Nick
, but it did gain enough popularity to be published in other countries back in the 1970s (e.g. Denmark and Netherlands), and it is still remembered today 30+ years after the last story was published.
Names around the World:
| | |
| --- | --- |
| Belgium | Hultrasson |
| Denmark | Viktor Viking |
| France | Hultrasson |
Related links/characters: