The Little King
---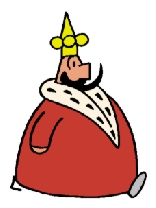 Eyes:
Black
Hair:
Black
Race:
Human
Occupation:
Ruler of an unnamed European country
Legal status:
King of an unnamed European country
Marital Status:
Married
Story:
The Little King is the ruler of an unnamed European kingdom. He spends his day ruling the country and playing pranks on his people.
Continuity:
Little King
Publisher(s):
King Features Syndicate
First app.:
Comics: The New Yorker (1931)
Cartoons: The Fatal Note (1933)
Creator(s):
Otto Soglow
Country of origin:
USA

Background notes:
The Little King was a, for the most part, pantomime strip poking fun at the European kingdoms. The king himself rarely spoke, but people around him sometimes said a few lines like when his car was ready for him or they had to set the scene for the reader to understand the punch line. Later in the comic books where the stories became longer than one page, he started saying something.
The Little King started in 1931 as a recurring figure in a strip Soglow was doing in the New Yorker. William Hearst, the founder of King Features Syndicate, saw the series and wanted it in his company, but due to contractual obligations to the New Yorker, he had to wait a few years. The Little king started at Kings Feature on September 9, 1934, where it stayed until the series ended in 1975 when Soglow died.
The series transferred to other medias. Most of these were obvious like comic books (e.g. Four Color Comics), merchandizing and cartoons. The Little King starred in 10 cartoons from 1933 to 1934 from van Beuren Studios, and in 1936 he appeared in a cartoon with Betty Boop called
Betty Boop and The Little King
from Paramount Studios, where he uttered a few words.
One of the less obvious transfers was Little King Cigarettes produced by The Rum and Maple Tobacco Corporation in March 1953. The Little King had become quite successful and The Rum and Maple Tobacco Corporation wanted to use this to sell cigarettes. The product was introduced at the tobacco convention in Atlantic City, where Soglow drew caricatures of the visitors at the Rum and Maple booth. The Little King on the cigarette packages was short lived.
In 1966 the Little King won the Rueben Award, an award from the National Cartoonist Society, which Soglow co-founded.
Examples: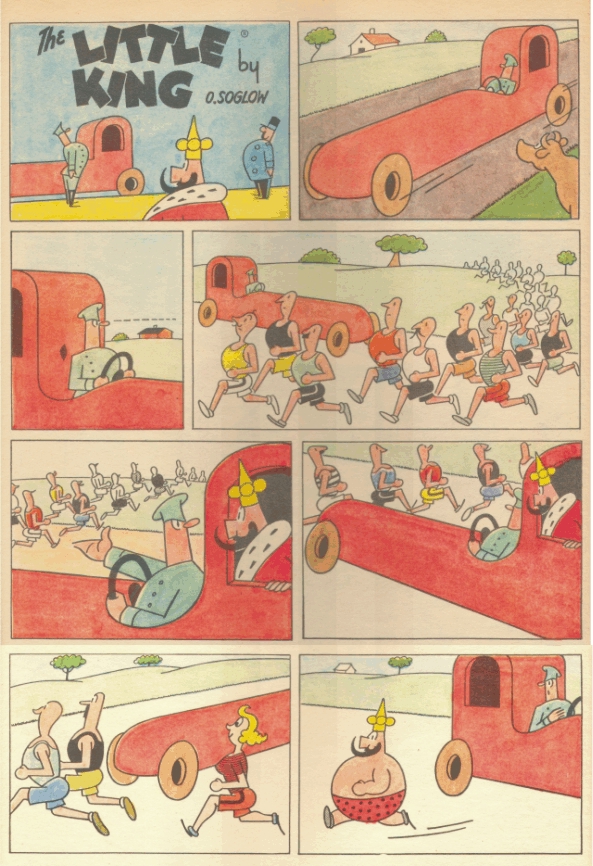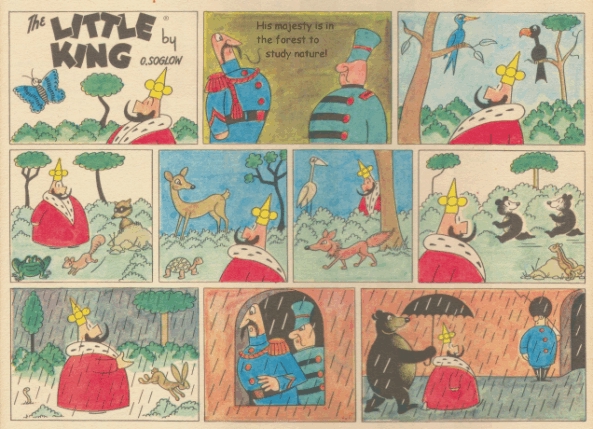 Names around the World:
Brazil
Reizinho
Denmark
Kong Kylie
France
Le Petit Roi
Germany
Der kleine König
Italy
Piccolo Re
Re Puccio
Re Bombolo
UK/USA
The Little King
Cross cultural references:
If you enjoyed this character/series, you might enjoy