Kasimir
---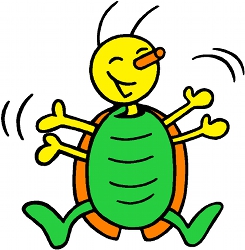 Eyes:
Black
Hair:
None
Race:
Beetle
Story:
Kasimir is a beetle who hangs out with his two friends Zebra and the raven Leserabe.
Continuity:
Leserabe
Publisher(s):
Ravensburger
First app.:
Leserabe #1, 2007
Country of origin:
Germany

Background notes:
Kasimir was developed by the publisher Ravensburger to help educating children. The three characters Leserabe, Zebra and Kasimir were created, to give the children a sympathetic facilitator of knowledge, and in the magazine the three characters are seen in short stories, games, recipes for cookies and the encyclopedia for children, Raben-Lexikon.
Being a magazine for children, the magazine comes with assorted merchandise like stickers and toys. So far the characters have not been transferred to other media than the merchandise per se. However, the raven and the name Leserabe has been used as an imprint for children's books.
Example (click to enlarge):

Note: The story is based on a play with words in German that does not translate well into English. Easter in German is Oster, which is similar to toaster, and Feuer, the German word for fire, is close to the German word for tax, Steuer.
Related links/characters: