Grelber
---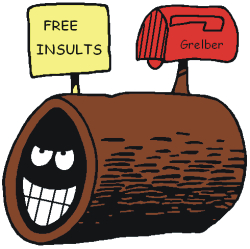 Eyes:
Black
Occupation:
Provider of insults
Base of operations:
The enchanted forest
Story:
Grebler is the insulting inhabitant of a log in the enchanted forest.
Continuity:
Broom-Hilda
Publisher(s):
Tribune Media Services, Inc.
First app.:
Comics: 1970
Cartoons: Archie's T.V. Funnies (1971)

Creator(s):
Russell Myers
Country of origin:
USA

Background notes:
Grelber was a part of the original cast in Broom-Hilda. It was never seen what Grelber really looked like, he was only a face in a log and all he did was coming with rude and obnoxious comments on the situation at hand. For some reason he is not used in the series any more. It may be related to the general change in style and tone in the series.
Grelber appeared in the "Broom-Hilda" segment of the cartoon
Archie's T.V. Funnies
from 1971. His voice was done by Alan Oppenheimer (who also did Irwin) and it was the only appearance of Grebler outside the comic.
Names around the World:
| | |
| --- | --- |
| Denmark | Møffe |
| UK/USA | Grelber |
Examples (click to enlarge):


Related links/characters: