Simon
---
Eyes:
Black
Hair:
White
Race:
Human
Legal status:
Citizen of the U.K.
Marital Status:
Single
Known relatives:
Sister (name not revealed)
Base of operations:
Somewhere in U.K.
Story:
Simon is the, sometimes exasperated, owner of a cat.
Continuity:
Simon's Cat
Publisher(s):
Canongate
First app.:
Cartoons: Cat Man Do (2007)
Comics: Simon's Cat: In his very own book (2009)
Games: Purrfect Pitch (2010)
Creator(s):
Simon Tofield
Country of origin:
United Kingdom

Background notes:
Simon's Cat is one of the Internet phenomenons. The series started out as cartoons uploaded on the Internet, the first being
Cat Man Do
from 2007. The cartoons became quite popular, and eventually led to comic book collection of new gags in 2009 and an app for iPhone called
Purrfect Pitch
in 2010.
The series revolves around the cat, his owner Simon, and his friends and the birds and from the garden. Especially the fishing garden gnome and the porcupines are good friends. The series is much more subtle than some of the other popular series with cats, like
Garfield
and
Get Fuzzy
, and while the cat has a distinct personality and do thing cats normally can't do (e.g. hit his owner with a baseball bat to wake him up), it does not speak and often behaves like a normal cat.
Apart from the media mentioned, quite a few pieces of merchandise has been made, e.g. kitchen magnets, coffee mugs, and cushions.
Examples (click to enlarge):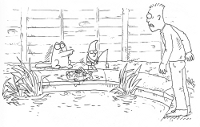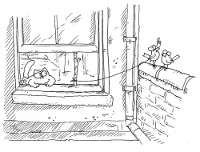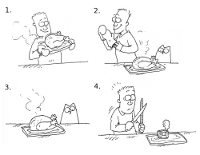 Related links/characters: