Hobby Hipp
---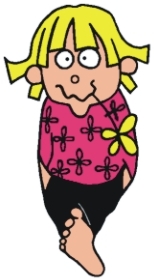 Eyes:
Black
Hair:
Blond
Race:
Human
Story:
Hobby Hipp is a kid from the 1970s fighting for idealism and power to the people.
Continuity:
Hobby Hipp
Publisher(s):
Bulls Presstjänst AB
First app.:
1970s
Creator(s):
Sissel Solem
Country of origin:
Norway

Background notes:
Hobby Hipp was one of those short lived and rather obscure comic strips, based on the World seen from the eyes of kids. Unlike timeless series like
Peanuts
, the series was firmly set in the 1970s complete with flower power, protesters, left wing movements and
power to the people
.
The humor was mostly dry and quirky and a lot of energy was spent poking fun of human double standards like driving alone in your car to the demonstration for using public transportation. Being set in the hippie environment most of the punchlines requires some knowledge of the 70s, preferably personal experience to be understood or appreciated.
Examples:



Cross cultural references:
If you enjoyed this character/series, you might enjoy
Doonesbury: Political satire
Miss Peach: The World from kids point-of-view
Peanuts: The World from kids point-of-view
The Perishers: The World from kids point-of-view