Nummermanden
---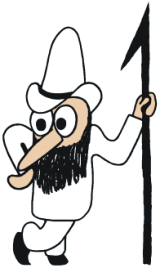 Eyes:
Black
Hair:
Black
Race:
Human
Story:
Nummermanden was a small man who put numbers on the pictures in the comic strip.
Continuity:
De tre Små mænd og nummermanden
First app.:
Verden og Vi, 1913
Creator(s):
Storm P. (Robert Storm Petersen)
Country of origin:
Denmark

Background notes:
Storm P. was one of the people who introduced the comic medium in Denmark. He started with the strip
Kan De Det?
in which he introduced three small men as a part of the supporting cast. After a few months the three men dumped the guy they worked for and few months later again, a new character was introduced. The new character's only job was to put numbers on the pictures in the comic strip and was named Nummermanden (
The Numberman
in Danish). With the introduction of Nummermanden,
De tre små mænd og Nummermanden
was created. The stories and ideas were imaginative and the humor offbeat, anarchistic and respectless in the vein of
The Katzenjammer Kids
, only mostly as pantomime. Until 1923 Storm P. made a strip per week, first in the weekly magazine
Verden og Vi
until 1916 and then in the newspaper B.T. After 1923, strips were made on an irregular basis until the series stopped in the 1940's.
The series was mostly published as a comic strip, but Storm P. also created a small story called
De tre små mænd og den vidunderlige vandkande
. The story was written in 1921, but it wasn't until 1952, after Storm P.'s death, that it was published. The short story was accompanied by text by Storm P. contrary to the normal comic strips.
Even though Nummermanden's only job was to put numbers on the pictures, he often had a secondary function, telling a small story within the story. This storytelling technique was also used by George MacManus in his comic
Bringing Up Father
which started at the same time, and has been used successfully in a few other series like
Rasmus Klump
and
Gyro Gearloose
. The numbers could be anything, either objects like a tree shaped as 1, or 2 shaped as a hook, or it could be flags and other items with the number painted on them.
Examples: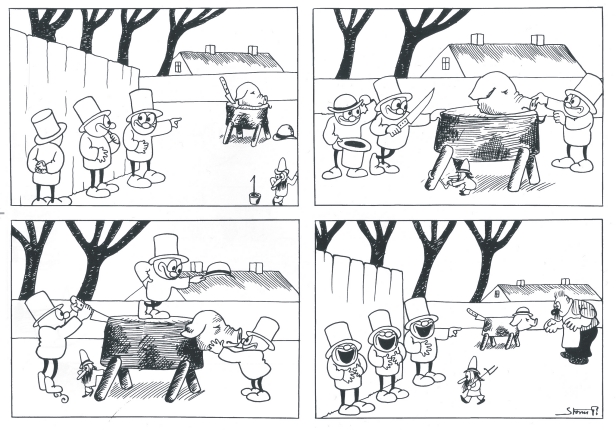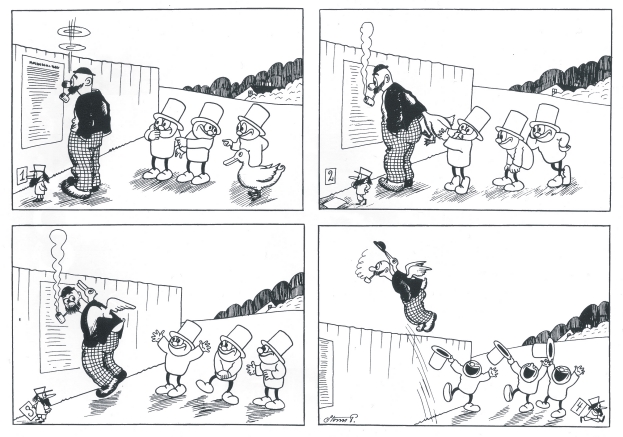 Related links/characters: