Niles Davison
---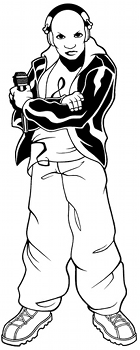 Alias:
Notes
Eyes:
Brown
Hair:
None
Race:
Human
Story:
Notes is a powerful science fiction superhero and a highly skilled pioneer in music technology. His purpose in life is to do the right thing and to transform and enhance the experience of making and editing electronic music.
Skills & abilities:
Notes can turn music into energy which he can manipulate to move objects.
Continuity:
Superhero Enterprises
Publisher(s):
Superhero Enterprises
Creator(s):
Davien Watkins
Country of origin:
USA

Background notes:
The character Notes was originally conceived as a logo for a music label. However, creator Davien Watkins took the idea further and used the character for comics and assorted products.
The basic idea behind Notes is to "Do The Right Thing". Davien Watkins has stated on several sites that the Notes symbolizes the human qualities of high moral character, courage, generosity, and honor of a noble spirit. So far only a few pages with the character has been shown on the company site. The plans so far is to release more pages, both as digital and physical comics.
Related links/characters: