Viagraman
---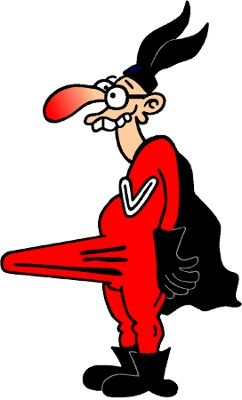 Real name:
Unknown
Eyes:
Black
Race:
Metahuman
Occupation:
Hero
Identity:
Secret
Story:
Viagraman is the hero who tries to save the day, using his enhanced strength.
Skills & abilities:
Flight capability and enhanced penile strength.
Equipment:
Belt radio and a pouch with extra Viagra
Continuity:
Viagraman
Publisher(s):
Brain Kebab Publishing Ltd.
First app.:
Comics: The Adventours of Viagraman (2000)
Creator(s):
Ufuk Uyanik
Country of origin:
United Kingdom

Background notes:
When Pfizer introduced the product Viagra for men with erectile dysfunction in 1998, the Viagra jokes started right away. One of the recurring characters in the jokes was the hero named Viagraman. The character started out as a web comic on brainkebab.com and the first 24 stories were at the same time published in
The Adventours of Viagraman
from 2000. A second collection, with the next 10 strips, was published in 2001; apparently only as an eBook and only for the Dutch market, though the comic strips were still in English.
Examples (click to enlarge):