Krytos
---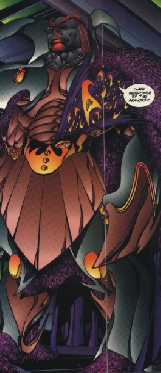 Eyes:
Red
Hair:
None
Race:
Dromak
Occupation:
General in the Dromak Empire
Story:
Krytos discovered Aric while he was out in space fighting a spider alien. He wanted the X-O Manowar armor and tried to take it from Aric. Instead of getting the armor, he was left in space in his protective armor after Aric destroyed his spaceship and foiled the invasion of the Dromac Empire [1-4]. Krytos landed on Earth shortly after Aric returned [5].
Equipment:
Krytos wears an armor for protection.
Continuity:
Valiant VH-1
Publisher(s):
Valiant
First app.:
X-O Manowar (vol. 1) #53 (1995)
Creator(s):
Jeff Bailey
Bart Sears
Country of origin:
USA

Related links/characters:
References:
1: X-O Manowar (vol. 1) #53
2: X-O Manowar (vol. 1) #54
3: X-O Manowar (vol. 1) #55
4: X-O Manowar (vol. 1) #56
5: X-O Manowar (vol. 1) #57