Bang Bang Sam
---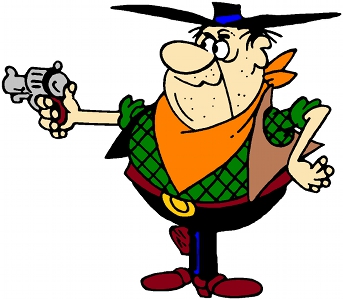 Eyes:
Black
Hair:
Black
Race:
Human
Occupation:
Cowboy
Marital Status:
Single
Story:
Bang Bang Sam is an everyday cowboy, facing the perils of everyday life.
Equipment:
Sam carries a six shooter.
Continuity:
Mitigüeso pistolero
Publisher(s):
Bardon
First app.:
1960's
Creator(s):
Vicar (Victor Arriagada Rios)
Country of origin:
Chile
Background notes:
The cowboy Bang Bang Sam first appeared in his own series
Mitigüeso pistolero
(meaning Smith & Wesson gunman) in Chile in the 1960's. So far no record has been found on exactly when or where. In Europe the series was shown in the Danish antology series
Seriemagasinet
from 1969 to 1981 and in the French magazine
Aventures & Voyages
from 1973 to 1976, in both cases under the name
Bang Bang Sam
. In Spain it appears the series ran as
Mitigüeso pistolero
in the 1970's. Most likely the series also appeared in other European countries, e.g. Norway and Sweden due to their version of
Seriemagasinet
. A few collections of the strips have been published, but today the series is mostly forgotten.
Examples (click to enlarge):