Jack B. Quick
---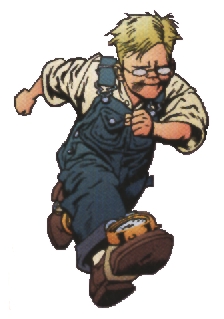 Eyes:
Blue
Hair:
Blond
Race:
Human
Occupation:
Genius kid and a menace to society.
Legal Status:
U.S. citizen
Marital Status:
Single
Identity:
Secret
Known relatives:
Father, unnamed
Mother, unnamed



Story:
Jack is the menace of the town Queerwater Creek where he makes all his inventions. Anything is possible and anything goes no matter how absurd.
Skills & abilities:
Jack can create anything from an idea, no matter how absurd.
Continuity:
America's Best Comics
Publisher(s):
America's Best Comics
WildStorm
DC Comics
First app.:
Alan Moore's Tomorrow Stories #1
Creator(s):
Alan Moore
Kevin Nowlan
Country of origin:
USA

Related links/characters: