Willi
---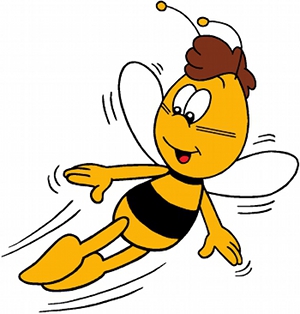 Eyes:
Black
Hair:
Brown
Race:
Bee
Marital Status:
Single
Base of operations:
Buchenwald, Germany
Story:
Willi is Maja's friend and companion on her adventures.
Continuity:
Die Biene Maja
Publisher(s):
Bastei
DeVision
Panini
First app.:
Cartoons: Die Biene Maja episode 1: Maja wird geboren (1975)
Comics: Die Biene Maja #1 (1976)
Games: Maya The Bee & Her Friends (1999)
Creator(s):
Hikaru Sasa
Hitoshi Kanazawa
Susumu Shiraume
Country of origin:
Japan

Background notes:
Maja's friend Willi was one of the characters created for the 1975 cartoon series. He was created by the writers Hikaru Sasa and Hitoshi Kanazawa and character designer Susumu Shiraume and appeared in the first episode of the series
Mitsubachi Māya no Bōken/Die Biene Maja
(German voice by Eberhard Storeck).
Willi has followed Maja through all her appearances, comics in 1976, games in 1999, and assorted types of merchandise.
Related links/characters: