Sammy Day
---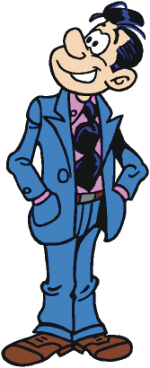 Eyes:
Black
Hair:
Black
Race:
Human
Occupation:
Bodyguard
Legal status:
U.S. citizen
Marital Status:
Single
Base of operations:
Chicago
Story:
Sammy and his friend Jack Attaway work as bodyguards (gorillas) in Chicago in the 1930'es. Sammy is the stoic partner who gets Jack out of trouble all the time.
Equipment:
Sammy usually carries assorted guns, hand grenades etc.
Continuity:
Sammy
Publisher(s):
Dupuis Publishing
First app.:
"La samba des gorilles" in Le Journal de Spirou # 1667 (1970)
Creator(s):
Berck (Arthur Berckmans)
Raoul Cauvin

Country of origin:
Belgium

Background notes:
Like a lot of other series in Europe, Sammy started in
Spirou
magazine. The series turned out to be quite successful and was transformed into a series of albums. There is currently 37 albums published from Dupuis Publishing. Despite its success, Sammy has not yet been transferred for other medias like cartoons or merchandize.
Sammy was originally written by Cauvin and drawn by Berck. In 1996 Berck retired and the artwork was handed over to Jean-Pol (Jean-Paul van den Broecke).
Related links/characters: