Seven Cross
---

Place of birth:
Oren
Eyes:
Brown
Hair:
Light Brown
Height:
5' 9''
Weight:
178 lbs.
Race:
Human
Occupation:
Pilot flying Dormingart, a type of mecha called Ion
Group affiliation:
Oren military
Story:
Like other children on Oren, Seven grew up under the controlling regime on the hemisphere. Like other children he was also tested as a kid and his skills got him selected to become a pilot of the mecha called Ions.
Seven's friend Lorne died under suspicious circumstances. The government's explanation was that Lorne was using OZ-X, a deadly, highly addictive drug, but Seven refused to believe this. Determined to uncover the truth, even if it meat breaking the laws of Oren, Seven started investigating.
Continuity:
The Dark Labyrinth
Publisher(s):
Dark Ocean Studios
First app.:
The Dark Labyrinth #1 (2007)
Creator(s):
Jody Parker
Geoff Porter
Country of origin:
USA

Related links/characters:
Downloads:
Wall paper: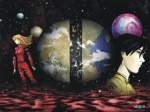 1280 x 960
Avatars: