Missus Bear
---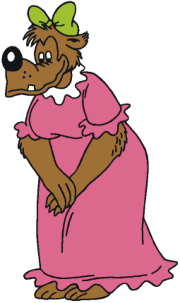 Eyes:
Black
Hair:
Brown fur
Race:
Bear
Occupation:
House wife
Marital Status:
Married
Known relatives:
Brer Bear (husband)
Four sons and one daughter seen.



Story:
Missus Bear is the sweet and charming wife of Brer Bear.
Continuity:
Disney
Publisher(s):
Disney
Dell Comics
Gold Key
First app.:
Walt Disney Comic #75 (1946)
Creator(s):
Chase Craig
Dick Moores
Country of origin:
USA

Background notes:
Even though Brer Bear was created as a villain along with Brer Fox, he had the potential to be something more, due to the cuddliness inherent in being a bear. By giving him a really sweet and pleasant wife and some kids he became more of a farmer and family man. The addition worked really well allowing for a greater diversity in the stories about the inhabitants in the forest.
The addition of Missus Bear came only a year after Brer Bear appeared, and even though the number of appearances is limited compared to Brer Bear it is noteworthy that she is still around. Like many other Disney characters, no stories have been produced in USA for decades, but in Europe, especially Netherlands and Denmark from the looks of it, new stories is still being produced.
Related links/characters: