Magilla Gorilla
---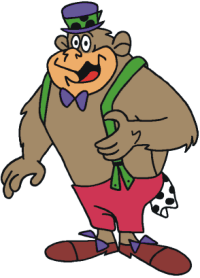 Eyes:
Black
Hair:
Brown fur
Race:
Gorilla
Occupation:
Pet for sale
Story:
Magilla Gorilla is the only pet at Peebles' Pet Store that can't find a home and an owner. He has been sold many times but he always ends up being returned to the store. The only one who would really like to have Magilla is Ogee, and she can't afford to buy him.
Continuity:
Hanna & Barbera Cartoons
Company:
Hanna-Barbera Productions
Reddy Kilowatt Inc.
Gold Key
Carlton Comics
Marvel Comics
First app.:
Cartoons: Big Game (January 14, 1964)
Comics: Magilla Gorilla #1 (1964)
Games: Magilla Gorilla Board Game (1964)
Creator(s):
William Hanna
Joseph Barbera
Country of origin:
USA

Background notes:
The Magilla Gorilla show
was yet another cartoon series by Hannah and Barbera. From a historical point-of-view, the show is interesting, as the trend with coordinated tie-ins like comics, merchandise etc. started with this series. The show ran 31 episodes from 1964-65 (Magilla's voice by Allan Melvin). After this, the show was on hiatus for a while, and then reappeared in
The ABC Saturday Superstar Movie
from 1972 and a few episodes of
Yogi's Gang
in 1973. After these appearances Magilla Gorilla was seen in the special
The Good, The Bad and Huckleberry Hound
(1988) before he reappeared in the cartoon series
Fender Bender 500
, which was a part of
Wake, Rattle, and Roll
, this time as a race driver with Wally Gator as his partner. The series ran for 50 episodes in 1990, the voice still done by Allan Melvin. After
Fender Bender 500
, Magilla appeared in
Arabian Nights (1994)
, and in 2005, he made two appearances in the series
Harvey Birdman, Attorney at Law
. Given the popularity of Hannah-Barbera characters he is likely to occur again.
Magilla Gorilla had his own series, running 10 issues from 1964 through 1968 from Gold Key. Around the same time as #1 came out, a promotional comic called
Magilla Gorilla Kite Fun Book
was published by Reddy Kilowatt Inc. In 1970 a series was published by Charlton comics, this series lasted five issues. In 1972
Magilla Gorilla Moves to the Country
#0 was published by Modern Promotions. This was a part of the
Durabooks Series
which was a series of one-shots, all issue #0. The books were not actual comics but rather richly illustrated picture books. The last appearance in comics so far, was in
Hanna-Barbera Spotlight
#4 from 1979, published by Marvel Comics.
The launch of the cartoon was coordinated with a slew of merchandise, like figurines, board games, plates, children's books, stuffed animals etc., and merchandise with Magilla Gorilla is still produced today.
Related links/characters: