Wally Gator
---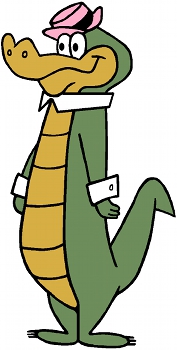 Eyes:
Black
Hair:
None
Race:
Alligator
Occupation:
Zoo animal and race car driver.
Marital Status:
Single
Story:
Wally Gator is one of the animals at the City Zoo.
Continuity:
Hanna & Barbera Cartoons
Company:
Hanna-Barbera Productions
Gold Key
Charlton Comics
Marvel Comics
Archie Comics
DC Comics
First app.:
Cartoons: Droopy Dragon (September 3, 1962)
Comics: Hanna-Barbera Bandwagon #1 (1962)
Games: Wally Gator Game (1962), older games may exist.
Creator(s):
William Hanna
Joseph Barbera
Country of origin:
USA

Background notes:
Wally Gator
started as one of the cartoons in
The Hanna-Barbera New Cartoon Series
in 1962 (voice by Daws Butler). The series ran for 51 episodes in 1962-1963. The basic story was that Wally would try to get around doing what the zookeper Mr. Twiddles told him to do, usually by escaping the zoo. In the end Wally would always be running back to the safety of his cozy home in the zoo. After the show stopped, the character apparently did not appear in cartoons until 1972 in
Yogi's Ark Lark
, and on a regular basis not until the series
Yogi's Gang
from 1973, this time interacting with the other Hanna-Barbera characters. After this, Wally Gator appeared on a regular basis on the shows
Scooby's Laff-A-Lympics
, and
Fender Bender 500
, where he teamed up with Magilla Gorilla as a race car driver. The last record in cartoons is the episode
Booty Noir
from
Harvey Birdman, Attorney at Law
from 2005 (voice by Maurice LaMarche), and a couple of cameos including the last two episodes of the series. Considering the content of the series, e.g. Mr. Twiddles is the owner of a porn site and becomes accused of cybersquatting, the appearances should most likely not be considered canon.
The character was transferred to comics with the introduction in cartoons. The first appearance was
Hanna-Barbera Bandwagon
#1 from 1962. Apparently he and Mr. Twiddles were not a popular characters in the comics, and thus his appearance is sporadic up to the last appearance which appears to be
Cartoon Network Presents
#3 from 1997.
Like most other Hanna-Barbera characters, merchandise was made with the characters. Mostly figurines, but also board games, a record and few other items.
Related links/characters: