Muttley
---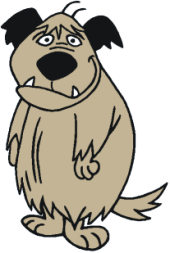 Eyes:
Black
Hair:
Gray fur
Race:
Dog
Occupation:
Pilot and race driver
Group affiliation:
The Vulture Squadron
The Really-Rottens



Story:
Muttley is Dick Dastardly's henchman and partner and a sneaky cheat when it comes to competitions.
Skills & abilities:
As a pilot, Muttley could fly by using his tail as a propeller.
Continuity:
Hanna & Barbera Cartoons
Company:
Hanna-Barbera Productions
Gold Key
First app.:
Cartoons: The Wacky Races Episode 1: See-Saw To Arkansas (1968)
Comics: The Wacky Races #1 (1969)
Creator(s):
William Hanna
Joseph Barbera
Country of origin:
USA

Background notes:
Dick Dastardly and Muttley started out as two of the participants in the
Wacky Races
, first in the cartoons in 1968 and shortly after in the comics in 1969. In the series, Dastardly and Muttley was a couple of drivers in what looked like a rocket with wheels, and they were the ones with the dirty tricks. Wacky Races only lasted one season as a cartoon series, and seven issues in comic format. In the cartoons, Muttley's voice and characteristic sneaky grin was done by Don Messick, who also did his voice in all the following series.
Like Penelope Pitstop, Dastardly and Muttley went on to their own series, this time as the main characters. This time they were pilots in the series
Dastardly and Muttley and Their Flying Machines
, and their job was to stop the American carrier pigeon Yankee Doodle Pigeon from crossing enemy lines. It was never mentioned who they were working for, but the design of the planes and names like Klunk and Zilly as the aides suggests a spoof of WWI Germany. The cartoon series lasted only one season from 1969 to 1970 (35 episodes). As a part of the series, Dick Dastardly and Muttley each had their own solo adventures named
Dick Dastardly Blackouts And Wing Dings
and
Magnificent Muttley
respectively. Like
Wacky Races
, the series was also transferred to the comic book medium. This time however they did not get their own series but was featured in the first 10 issues of the anthology series
Fun-In
from 1970 to 1971.
After this, the two characters took a short break until
Scooby's All Star Laff-A-Lympics
in 1977. Here they were on a team of contestants named The Really-Rottens. The Really-Rottes was a team of the scoundrels from Hanna and Barbera's various series, and obviously the team that would use any trick to win the competitions. The series was a spoof on ABC's
Wide World of Sports
and lasted two seasons (24 episodes).
Once again, the two characters went on hiatus, this time until the series
Yogi's Treasure Hunt
started in 1985. This time they were sailing in the submarine S.S. Dirty Tricks and obstructing Yogi Bear and his crew's search for treasures. The series ran for three seasons (27 episodes).
In their last appearance so far, the two were back to racing in cars. This was the cartoon series
Fender Bender 500
which was a part of the series
Wake, Rattle & Roll
from 1990 to 1991.
Outside the comics and cartoons, Dastardly and Muttley have only appeared on a few pieces of merchandise like figurines and model cars.
Related links/characters: