Yankee Doodle Pigeon
---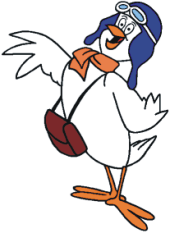 Eyes:
Black
Hair:
None, white feathers
Race:
Pigeon
Occupation:
Secret agent
Legal status:
U.S. citizen
Story:
Yankee Doodle Pigeon is a carrier pigeon/secret agent trying to cross enemy lines and avoid getting caught by Dick Dastardly and his Vulture Squadron.
Continuity:
Hanna & Barbera Cartoons
Company:
Hanna-Barbera Productions
Gold Key
First app.:
Cartoons: Dastardly and Muttley and Their Flying Machines Episode 1: Follow That Feather (September 20, 1969)
Comics: Fun-In #1 (1970)
Creator(s):
William Hanna
Joseph Barbera
Country of origin:
USA

Background notes:
When Dastardly and Muttley were moved from being race drivers in the series
Wacky Races
, to being pilots in the series
Dastardly and Muttley and Their Flying Machines
, their job was to stop the American carrier pigeon Yankee Doodle Pigeon from crossing enemy lines. It was never mentioned who Dick Dastardly and his crew were working for, but the design of the planes and names like Klunk and Zilly as the aides suggests a spoof of WWI Germany. The cartoon series lasted only one season from 1969 to 1970 (35 episodes). Like
Wacky Races
, the series was also transferred to the comic book medium. This time however they did not get their own series but was featured in the first 10 issues of the anthology series
Fun-In
from 1970 to 1971. Contrary to the cartoons, where the pigeon's only lines were blowing his horn, Yankee Doodle Pigeon spoke in the comics.
Yankee Doodle Pigeon has not been seen in any cartoons or comics since then, and there is no indication of having been transferred to other media.
Related links/characters: