Steve Pops
---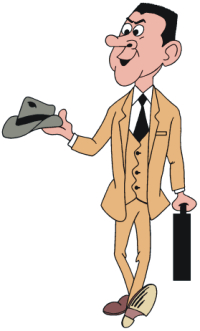 Alias:
Agent H
2
O
Eyes:
Black
Hair:
Black
Race:
Human
Occupation:
Secret agent for Na
2
S
Legal status:
British citizen
Marital Status:
Single
Identity:
Secret
Group affiliation:
Na
2
S (British counterespionage)
Base of operations:
London, England
Story:
Steve Pops is the secret agent H
2
O who works for the agency Na
2
S. Besides being a good agent he is know for his rapidly growing beard, and for his clothes and cakes.
Skills & abilities:
Steve Pops is a master of disguise, hand-to-hand combat and use of handguns.
Continuity:
Steve Pops
Publisher(s):
Casterman
First app.:
Steve Pops Contre Dr. Yes (1967)
Creator(s):
Jacques Devos
Country of origin:
Belgium

Background notes:
As agent parodies goes, Steve Pops is a pretty standard character. The stories are mostly spoofing the Sean Connery version of James Bond movies, but it does contain elements of other famous spy series like Man from U.N.C.L.E. (Napoleon Solo and Illya Kuryakin even makes a cameo appearance).
The series only contains two albums and is mostly forgotten, contrary to his other series like
Superherman
and
Tim et Tom
, and the character was never transferred to other media.
Cross cultural references:
If you enjoyed this character/series, you might enjoy