Sheldon
---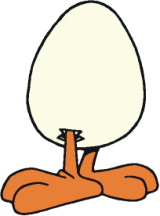 Eyes:
Black
Hair:
Yellow fluff/feathers under the egg shell
Race:
Chicken
Known relatives:
Booker (brother)
Orson (adopted mother)



Story:
Sheldon was one of two eggs left behind by their mother. The pig Orson found the eggs and sat on them until they hatched. Being the first thing they saw, Orson obviously had to be the mother. When Sheldon hatched as the last one of the two, he didn't want to come out of the shell, and Orson and Booker decided his name should be Sheldon.
Equipment:
In his shell, Sheldon has installed various items like air conditioner, TV, pool table, light, etc. to make living there easier.
Continuity:
Garfield and friends
Publisher(s):
Syndicated series
First app.:
Comics: As egg: May 6, 1986
As Sheldon: May 27, 1986
Cartoons: Wanted: Wade (September 17, 1988)
Creator(s):
Jim Davis
Country of origin:
USA

Background notes:
In the cartoons, Sheldon calls Orson Daddy in stead of Mom (voice by Frank Welker).
Examples (click to enlarge):



Related links/characters: