Mr. Lion
---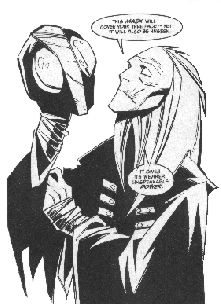 Real name:
Unknown
Eyes:
White
Hair:
White
Other distinguishing features:
White skin
Race:
Presumed to be human
Identity:
Secret
Story:
Mr. Lion was originally a villain who it was said couldn't be killed, only incarcerated [3]. After all the heroes had been killed, he was trapped in his bandages and hidden in the Graveyard of Forgotten Heroes. On his tombstone it was written 'Here lies Mr. Lion the Deceiver. May he never wake again' [1].
When Story and Johnny found Mr. Lion on the Graveyard of Forgotten Heroes they assumed he was one of the dead heroes. He was wrapped in the healing rags, which they gave to Rags Murphy [1]. Unfortunately Mr. Lion wasn't dead, only in some sort of trance/sleep. When the rags had been removed he woke up and started scheming against the Foot Soldier [2].
Skills & abilities:
Originally Mr. Lion was immortal, but during his years on the Graveyard of Forgotten Heroes, the cloth used to wrap him in absorbed his immortality.
Continuity:
Foot Soldiers
Publisher(s):
Dark Horse
Image
AiT/PlanetLar
First app.:
As corpse: Foot Soldiers (vol. 1) #1 (1996)
Resurrected: Foot Soldiers (vol. 2) #1 (1997)
Creator(s):
Jim Krueger
Michael Avon Oeming
Country of origin:
USA

Related links/characters:
References:
1: Foot Soldiers (vol. 1) #1
2: Foot Soldiers (vol. 2) #1
3: Foot Soldiers (vol. 3): The Spokesman