Quigley
---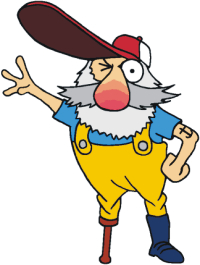 Eyes:
Black
Hair:
Grey
Other distinguishing features:
Quigley has a wooden leg
Race:
Human
Base of operations:
Kapupu Lagoon, Micronesia
Story:
Quigley is a crusty peg-legged sea captain with an endless supply of elaborate traps for catching the Great White Shark. More specifically he want to catch Sherman who took his leg years ago. Quigley is the only one Sherman can outsmart.
Continuity:
Sherman's Lagoon
Publisher(s):
Syndicated series
Creator(s):
Jim Toomey
Country of origin:
USA

Related links/characters: