Sherman
---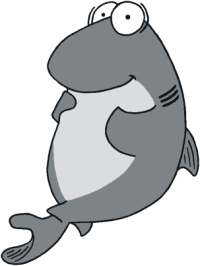 Eyes:
Black
Hair:
None
Race:
White shark
Occupation:
Predator
Marital Status:
Married
Known relatives:
Megan (wife)
Herman (son)
Rupert (nephew)
Grampy (grandfather, deceased)
Vinny (uncle, deceased)
Ronny (cousin, deceased)
Fergus MacSherman (great uncle, deceased)

Base of operations:
Sherman's Lagoon
Story:
Sherman is a good natured great white shark with an impressive appetite and a less than impressive brain. He is slightly whipped by his wife Megan who keeps him in a short leash. The only person Sherman manages to outsmart consistently is Captain Quigley, a crusty old fisherman who is hunting Sherman for eating his leg.
Continuity:
Sherman's Lagoon
Publisher(s):
Syndicated series
Creator(s):
Jim Toomey
Country of origin:
USA

Example (click to enlarge):

Related links/characters:
Cross cultural references:
If you enjoyed this character/series, you might enjoy