Henery Hawk
---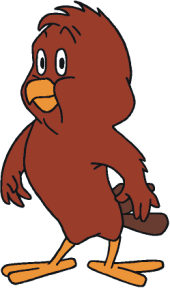 Eyes:
Black
Hair:
Brown feathers
Race:
Chickenhawk
Occupation:
Chicken hunter
Known relatives:
Poppa Hawk (father)
Momma Hawk (mother)
Grandpa Hawk (grandfather)



Story:
Henery Hawk is a young and small chickenhawk who is always hunting chickens, though he is not quite sure what a chicken looks like.
Continuity:
Looney Tunes
Publisher(s):
Warner Bros.
Looney Toones
Dell Comics
Gold Key
Whitman Publishing
DC Comics
First app.:
Cartoons: The Squawkin' Hawk (August 8, 1942)
Comics: Looney Tunes and Merrie Melodies Comics #26 (1943)
Creator(s):
Tedd Pierce
Chuck Jones
Ken Harris
Leon Schlesinger
Country of origin:
USA

Background notes:
The chickenhawk Henery Hawk first appeared in the cartoon
The Squawkin' Hawk
from 1942 (voice by Kent Rogers). Here the small chickenhawk did not want to eat worms and set out to catch a chicken instead, even though he had no idea what a chicken looked like. The story was written by Tedd Pierce, directed by Chuck Jones and produced by Leon Schlesinger, and so far these are the only three people known to be involved in the creation of Henery Hawk.
Henery Hawk's second appearance was opposite Foghorn Leghorn and Barnyard Dawg in
Walky Talky Hawky
from 1946. In this cartoon Mel Blanc tool over as the voice of Henery Hawk, and stayed the voice actor for the character for the remainder of his appearances. Foghorn and to some extend also Barnyard Dawg stayed his primary adversaries, but in the 12 cartoons with Henery Hawk, he was also pitted against Sylvester Pussycat and Daffy Duck (
Crowing Pains
(1947) and
You Were Never Duckier
(1948) respectively). The last cartoon was
Strangled Eggs
from 1961. After this, the cartoons continued as reruns in anthology series like
Bugs Bunny Show
and
The Roadrunner Show
, and contrary to Foghorn Leghorn he has not been seen in new material since 1961.
The basic idea in the cartoons were the same as the Roadrunner cartoons: The predator trying to catch it's prey, and how he fails and keeps coming back to try once more. However contrary to Wile E. Coyote, the fun was not in the plans backfiring and the slapstick violence but Henery Hawk's not knowing what a chicken looks like and his small size compared to the animals he tries to catch, thinking they are chickens.
In comics Henery Hawk must be said to be very successful. He started appearing in
Looney Tunes and Merrie Melodies Comics
in 1943 (#26 is the earliest record so far), and became a regular in both this series and various other series like
Bugs Bunny
,
Beep Beep the Road Runner
and
Looney Tunes
(both the one from Gold Key/Whitman and the current from DC Comics) all the way up till today. In the comics he was often teamed with Ollie Owl, especially in the 1940s and 50s.
As a relatively popular Looney Tunes character, merchandize has been made with Henery Hawk. The items found are toys, figurines, promo glass, stickers etc. as one would expect.
Related links/characters: