Oliver Owl
---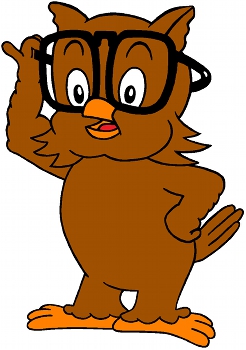 Eyes:
Black
Hair:
Brown feathers
Race:
Owl
Occupation:
School kid
Known relatives:
Mother and father (not named)
Story:
Oliver Owl is Henery Hawk's friend.
Continuity:
Looney Tunes
Publisher(s):
Warner Bros.
Looney Toones
Dell Comics
Gold Key
Whitman Publishing
First app.:
Cartoons: I Haven't Got a Hat (1935)
Comics: Looney Tunes and Merrie Melodies Comics #37 (1943)
Creator(s):
Isadore 'Friz' Freleng
Rollin Hamilton
Jack King
Country of origin:
USA

Background notes:
Oliver Owl first appeared as one of the school kids in the cartoon
I Haven't Got a Hat
from 1935. This appears to be his only appearance in cartoons as a part of the cast, but he was seen on the title page for Looney Tunes in several other cartoons. A character looking like a dog with tail feathers seen in
Plane Dippy
from 1936 has a lot of visual similarity with Oliver and may be mistaken for the character, but it is not.
When Dell started publishing Looney Tunes series, starting with
Looney Tunes and Merrie Melodies Comics
in 1941, Oliver was cast as the annoying goody two-shoes and friend of Henery Hawk. Here he was mostly called Ollie, and he was given a mom and dad. Though they appeared quite often in the comics, they were never given any names. In comics Oliver first appeared in
Looney Tunes and Merrie Melodies Comics
#37 from 1943, and was a regular in the various Looney Tunes series until
Beep Beep the Road Runner
#67 from 1977.
There is no indication of Oliver Owl appearing on any merchandise or anywhere else outside the comics. There may be some Henery Hawk merchandise to be found, having Oliver Owl shown as well.
Related links/characters: