K-9
---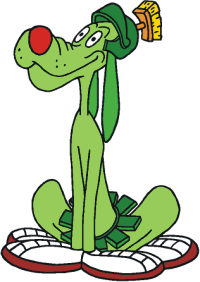 Alias:
Commander K-9
Eyes:
Black
Hair:
Bright green fur
Race:
Martian dog
Occupation:
Sidekick
Base of operations:
Mars
Story:
K-9 is Marvin the Martian's faithful sidekick on his missions.
Continuity:
Looney Tunes
Publisher(s):
Warner Bros.
Looney Toones
DC Comics
First app.:
Cartoons: Haredevil Hare (July 24, 1948)
Comics: Looney Tunes #7 (1994)
Games: Sheep Raider/Sheep, Dog, 'n' Wolf (2001)
Creator(s):
Chuck Jones
Mike Maltese
Country of origin:
USA

Background notes:
K-9 is Marvin the Martian's dog. He first appeared along with Marvin in
Haredevil Hare
from 1948 and appeared only in two of the five original cartoons with Marvin the Martian, the other one being
The Hasty Hare
from 1952 (voice by Mel Blanc). After this, K-9's appearances were limited to reruns in the Looney Tunes anthologies like
The Bugs Bunny Road Runner Hour
and
The Bugs Bunny & Tweety Show
and while Marvin the Martian has appeared in new material since 1979, K-9's appearances have been limited to a cameo in
Looney Tunes: Back In Action
(2003) and two episodes of
Duck Dodgers
(
K-9 Kaddy
and
K-9 Quarry
from 2003 and 2004, voice by Frank Welker) where he was called Commander K-9. K-9 is pronounced "canine" i.e. a pun on the character being a dog.
In comics K-9 has fared a bit better than cartoons. Like Marvin the Martian, he did not appear in comics until DC Comics started their
Looney Tunes
series in 1994. The first appearance was #7, and since then, he has only appeared about once a year.
Outside the expected appearances for a cartoon character, K-9 appeared along with Marvin the Martian in the game
Marvin Strikes Back!
from 2000 for the Gameboy console and
Sheep, Dog, 'n' Wolf
in 2001 from Infogrames for PC and Playstation (named
Sheep Raider
in the U.S. Playstation version).
Strangely enough, the medium where the Martian dog appears the most is merchandise. K-9 can be found on a wide range of items like teddy bears, pins, coloring books, figurines, and a salt and pepper set (with Marvin the Martian).
Related links/characters: