Marvin the Martian
---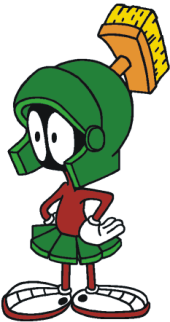 Alias:
Commander X-2
Eyes:
Black
Hair:
None
Race:
Martian
Occupation:
Conqueror
Known relatives:
Melvin the Martian (descendant in 2772, only in "Loonatics Unleashed")
Base of operations:
Mars
Story:
Marvin the Martian is the Martian conqueror who is usually stopped by Bugs Bunny or Duck Dodgers.
Equipment:
Marvin carries a ray-gun.
Continuity:
Looney Tunes
Publisher(s):
Warner Bros.
Looney Toones
DC Comics
First app.:
Cartoons: Haredevil Hare (July 24, 1948)
Comics: Looney Tunes #1 (1994)
Games: Road Runner's Death Valley Rally (1992)
Creator(s):
Chuck Jones
Mike Maltese
Country of origin:
USA

Background notes:
Marvin the Martian first appeared along with his dog/sidekick K-9 in
Haredevil Hare
from 1948 where Bugs Bunny stopped him from destroying the Earth. When he started out, he was just a minor character appearing in only five cartoons (his voice done by Mel Blanc in all five), the last one being
Mad as a Mars Hare
(1963), before be joined the ranks of obscure Looney Tunes characters. After this, his appearances were limited to reruns in the Looney Tunes anthologies like
The Bugs Bunny Road Runner Hour
and
The Bugs Bunny & Tweety Show
, until he was suddenly taken up again in
The Bugs Bunny/Road Runner Movie
from 1979. This was also the cartoon where he got a name for the first time. In the cartoon he was called Marvin Martian. He had been referred to as Commander X-2 in the original cartoons, but he had not been given a name. The change to Marvin the Martian came sometimes later.
His rise to stardom came in
Duck Dodgers in the Return of the 24½th Century
from 1981. From there he was used from time to time in the cartoons, including
Space Jam
from 1996 (voice by Bob Bergen) where he played a prominent role as the referee, and
Looney Tunes: Back in Action
from 2003 (voice by Eric Goldberg) where he was a villain working for Mr. Chairman. He also had single appearances in series like
Taz-Mania
,
Baby Looney Tunes
, and
Tiny Toon Adventures
, but again, it was the Duck Dodgers stories that made him a regular in cartoons. The series
Duck Dodgers
ran in 2003-2005, and as always in Duck Dodgers, Marvin played the role of the conquering villain (voice by Joe Alaskey).
In comics Marvin also started late. Like his dog K-9, he did not appear in comics until DC Comics started their
Looney Tunes
series in 1994. The first appearance was #1, and since then, he has been one of the regulars in the stories.
Before his appearance in comics, Marvin made the jump to another media: The computer games. He first appeared in
Road Runner's Death Valley Rally
from 1992, where he only had a small role. The following year came
Daffy Duck: The Marvin Missions
for Super Nintendo and GameBoy, which was a game version of Duck Dodgers, where he had a major role. Since then he has appeared in several games for the various platforms, including games made in Flash to be played on the Internet.
In regards to merchandize, it appears that Marvin the Martian did not appear on any merchandize before his appearance in
Duck Dodgers in the Return of the 24½th Century
. After his appearance in the cartoon however, he has been one of the most popular characters to use on merchandize and appears on a wide range of items like teddy bears, pins, coloring books, coffee mugs, t-shirts, figurines, etc.
An interesting and rather rare honor was Marvin the Martian being used in the Rover Mission to Mars. Representatives from the U.S. Air Force working with Warner Bros. Consumer Products created the official patch designs for both the Mars-A and Mars-B missions. The Mars-A patch featured Marvin The Martian saluting the Mars Rover and the Mars-A patch featured Daffy Duck as Duck Dodgers posed proudly with the American flag.
Related links/characters: