Marc Antony
---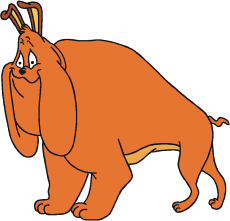 Eyes:
Black
Hair:
Orange to brown fur
Race:
Bulldog
Story:
Marc Antony is a bulldog who adores the kitten Pussyfoot, and tries to get to keep him.
Continuity:
Looney Tunes
Publisher(s):
Warner Bros.
Looney Toones
DC Comics
First app.:
Cartoons: Feed The Kitty (February 2, 1952)
Comics: Looney Tunes #15 (1995)
Creator(s):
Michael Maltese
Charles M. Jones
Country of origin:
USA

Background notes:
The dog Marc Antony first appeared in the cartoon
Feed The Kitty
from 1952, where he found by the kitten Pussyfoot. Taken in by the kitten that did not fear him and went to sleep on his back, he tried to get permission to keep the kitten. Marc Antony and Pussyfoot appeared in five cartoons, the last one being
Cat Feud
from 1958 (voice by Mel Blanc). Except for
Feline Frame-Up
from 1954 where Claude Cat appeared, Marc Antony and Pussyfoot never interacted with the other Looney Tunes in the cartoons, and after
Cat Feud
, the two were only seen in reruns like
The Bugs Bunny Show
and
The Bugs Bunny & Tweety Show
.
Outside the cartoons, Marc Antony appeared in several places, contrary to Pussyfoot. According to the information currently available, Marc Antony and Pussyfoot did not appear in comics until 1995 in
Looney Tunes
#15 from DC Comics, and so far it has only been a few appearances. It should be noted, that Marc Antony has appeared in more stories than Pussyfoot, and in the comics he appears with characters like Sylvester Pussycat and Elmer Fudd. Merchandise like the comics is also only a handful of appearances, and he appears on several items along with Looney Tunes characters other than Pussyfoot.
Related links/characters: