Pussyfoot
---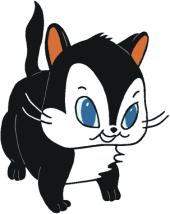 Eyes:
Blue
Hair:
Black and white fur
Race:
Cat
Story:
Pussyfoot is the little kitten that the dog Marc Antony adores and tries to keep.
Continuity:
Looney Tunes
Publisher(s):
Warner Bros.
Looney Toones
DC Comics
First app.:
Cartoons: Feed The Kitty (February 2, 1952)
Comics: Looney Tunes #15 (1995)
Creator(s):
Michael Maltese
Charles M. Jones
Country of origin:
USA

Background notes:
Pussyfoot first appeared in the cartoon
Feed The Kitty
from 1952, where he was found by the bulldog Marc Antony. In the cartoon he never really did anything. He played around, looked cute and went to sleep, usually on Marc Antony's back. The few sounds he made, were made by Mel Blanc who also did Marc Antony in the cartoons. Marc Antony and Pussyfoot appeared in five cartoons, the last one being
Cat Feud
from 1958.
Outside the cartoons, Pussyfoot has only appeared a few places, contrary to Marc Antony. According to the information currently available, Marc Antony and Pussyfoot did not appear in comics until 1995 in
Looney Tunes #15
from DC Comics, and so far it has only been a couple of appearances. Merchandise like the comics is also only a few appearances.
Related links/characters: